Index
The Syd Lawrence Special: Surprise chassis discovery?
By Mona Nath
For sixty-six years the chassis no. for Syd Lawrence's racing car VMF 944 has been known to be the odd-sounding '102/50 ML'. Now in 2016, it has had the W.O. Chassis no. 708 bestowed on it. Deal with it.

The 1950 registration book for Syd Lawrence's legendary racing car VMF 944 lists the Chassis no. as '102/50ML'. The chassis is stamped with 102 and an additional '50 ML'. This was added by Southgate Motors (London) Ltd in 1950, a company owned by Syd Lawrence that built this car. The '50 ML' stands for '1950 Modified Lawrence'.
Now 66 years on, it has been declared that the Chassis no. for this car is 708. And no one knew all these years! The car has had many owners since 1950 when Syd Lawrence built this racer. He sold it in 1968 to John Bertram Vickery, London who sold it to Brian Cook, Caldew in 1998. The car went on to the next owner, Joanna Vassey, Huntonbridge in 2005 who sold it to David Dunn, Dublin, Ireland in 2006. Detlef Heyer, Dublin, became the next owner of the Syd Lawrence Special in 2010 and he sold it the present owner in January / February 2016.

Detlef Heyer was to make this 'Chassis-708' discovery recently when H&H inspected the innards of the car before adding it to the October 2015 auction. But still, H&H went 'by the book' and listed it as Chassis 102/50 (view H&H page). H&H noted: "The number stamped into the front engine cross member — 102/50ML is Syd's own but the number stamped within the nearside front dumb iron resembles '708' and looks to be a Cricklewood factory marking (though, the final digit has been abraded)".
The car eventually sold via Stanley Mann Racing in February 2016 who chose to list it as Chassis 708, (view Stanley Mann Racing page) while introducing it as "...a vintage Bentley that is neither a concours contender nor a matching numbers example". But there was neither any mention of the '102/5ML' chassis nor any pictures of number-stamping on the chassis.
Detlef Heyer has been touch with VintageBentleys.org since 2012. Here are some excerpts of our conversations with him:
In his e-mail (Jan 30, 2012) to Robert McLellan , Detlef Heyer wrote, "I am the owner of the Syd Lawrence Special, Chassis No. 102/50 ML, Engine No. 102/50 ML. This car is not a replica but was built by Syd Lawrence from 1949 to 1951 on a 3 ltr original chassis with 4.5 ltr original engine. The car was raced by Syd in GB national events in Silverstone and Goodwood in 1951, 1952, 1953, 1954 and 1956 with good results. Any more history known?"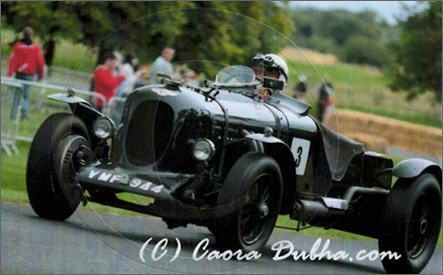 Detlef Heyer, 2012-2016 owner of the Syd Lawrence Special racing
at 'Irish Festival of Speed' in 2011 at Adare Manor
Robert McLellan (Jan 31, 2012): "You state it is chassis 102/50 ML. Are you saying it is chassis 102 which would make it originally a 1922 3 Litre? We have no information on chassis 102. You state it is 1927. Also, there is no 50 ML engine. What is the engine number? If you can confirm it is chassis 102, I will put this information and photos on the chassis 102 web page. I look forward to learning more about the car."
Detlef responded soon after with some information on his car. "I have no pre-war information but a lot from 1949 onwards, some included with this email:
| | |
| --- | --- |
| - | Copy of Registration-Book, dated 01.05.1950 (26.04.1950) to Syd John Lawrence with registration No. VMF 944 (Photo) |
| - | The chassis is stamped No.102 and additional with 50 ML. This extra marking was added by Southgate Motors (London) Ltd in 1950. The owner of this company was Syd Lawrence who built this Car. 50 ML is standing for 1950 Modified Lawrence. You are stating correctly that No. 102 is year 1922 and I think that here was a misreading somewhere of the handwritten numbers 2 and the 7. The modification in 1950 was, adding "Tiebars" in order to give extra strength to the chassis to suit the 4 1/2 ltr. engine. |
| - | Engine: According to the book "Bentley Specials & Special Bentleys" 1th(?) edition page 80, by Ray Roberts, the engine is KM 3088 and modified again in 1950 by Southgate Motors/Syd Lawrence and additional stamped with 102/50 ML. (Photo) |
Robert, if you could find some records of the pre war time, this could be very nice. — Detlef"


Upon learning about the sale of VMF 944 recently, Mona Nath of VintageBentleys.org contacted Detlef on February 22, 2016: "Hello Detlef, Do you still own this car? We ask because VMF 944 has just sold at Stanley Mann Racing. But the Chassis no. has been listed as 708. Please confirm this is your car. And why the chassis number is now 708. According to Michael (Clare) Hay, in the 1997 book "Bentley: The Vintage Years", chassis 708 was last heard of in 1946. I look forward to hearing from you. - Mona Nath"

We received a prompt reply from Detlef on Feb 23, 2016, "Hi Mona. Yes my car has been sold a few weeks ago by "Stanley Mann Racing". Previous the car had been entered in the H & H Auction in Oct. 2015 but did not sell at the price I was looking for and I did give it to Stanley Mann in commission. Prior to this auction a detailed and minute check and test-drive had been carried out by H&H and according to H&H a number was found on the chassis which seems to read 708.
This car was always known as "Syd Lawrence Special" chassis No 102 ML 50 and Engine No. 102 ML 50 and was first registered by Syd Lawrence in 1950 with this numbers. These numbers are also stamped on the Engine and car. There are indications that the chassis could be 708 and the engine could be number 3088 because the steering box is clearly marked as KM 3089 which was part of this engine and there is a photo from 1950 titled "Chassis chasing its engine" whereby a another Bentley which had engine KM 3088 previously is chasing VMF 944 on the race track.
It is presumed that Syd Lawrence was using these original Bentley components beside other original parts such as back and front axles D type gear box etc. from his own stock to build the racer VMF 944 and restamped it with 102 ML 50 for (102 Modified Lawrence 1950). 1950 was the year Syd Lawrence registered this car first in the UK.
Sorry for the confusion, but surely without this it wouldn't be a BENTLEY. — Detlef"

Hungry for more information we got right back to Detlef with: "Hi again Detlef, Just so we learn more about the Syd Lawrence Special: It's so amazing that the chassis turns out to be 708! And quite astonishing that this information doesn't figure anywhere in the old registration book scans you sent us. And no one noticed it all these years... I don't suppose you have pictures of the '708' stamp found on the chassis? In your 2012 email to us you had stated - "The chassis is stamped No. 102 and additional with 50 ML."
Just checked the H&H archives. Their page has a lot of photographs of the Syd Lawrence Special including close-ups of the '102/50' stamp and also 'KM 3089', another chassis this car is associated with. But no picture of the '708' stamp.
And while it was H&H that discovered the '708' thing, they still chose to print "Chassis Number: 102/50ML" at the top of the auction page. But Stanley Mann Racing has used "Chassis Number: 708" at the top of their For Sale page (despite all the paper work showing 102/50). Do you know what made Stanley Mann Racing designate the new chassis number so unequivocally?
I noticed that historian Clare Hay has absolutely no extra information on 102. Although for 708 she says it wasn't heard of after 1946, but rebuilt on a new frame after 1930 accident. — Mona Nath"

Detlef responded with a document titled 'History' (for VMF 944) saying, "Dear Mona, Enclosed a short but not complete history of the above car. Unfortunately I have given all records (two big files) via Stanley Mann to the new owner, one of them having more than 25 black and white photos from 1950s of the car racing at Silverstone, Goodwood and 4 other race tracks in the UK including programs giving starter numbers and position in which the car finished. Hope the enclosed history will answer a lot of your questions. — Detlef Heyer"
It is to be noted that Michael (Clare) Hay's Bentley: The Vintage Years (1997) presents only the bare-bones information for 3-litre Chassis 102. This includes Engine no. 106, delivery date June 1922, first owner C.H. Deakin, but no Registration number and nothing about the Coachbuilder or type of Body. It is listed as 'S' type of car (9' 9 1/2" wheelbase, low compression engine, single Smith carburettor). In the same book, for Chassis 708, Michael (Clare) Hay writes that it was last heard of in 1946 and "rebuilt on new frame 5/30 after accident".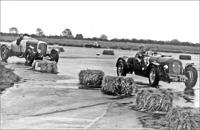 The photo shows a chassis
chasing its original engine!
Additionally, Chassis KM3089 also seems to be involved in this maze. As Detlef shared: i) "The engine could be number 3088 because the steering box is clearly marked as KM 3089 which was part of this engine." ii) The presence of a 1950 photo along with VintageBentleys.org reader Chris Card's comment, "The photo shows a chassis chasing its original engine." That is, Chassis KM 3089, Reg MKN 841 is chasing Syd Lawrence's car which has KM 3089's original engine no. 3088. Of course, all this is supported by Hay's priceless notes in Bentley: The Vintage Years: "Chassis KM 3089 built into HF 3185 - see KM 3089. Eng KM 3088 in VMF 944 ch?"
It's a lot to figure out, and in the meanwhile we have had VintageBentleys.org reader Alan Giles send us this: "Although Bentley ch. no. 708 may no longer be in existence, I have the Axle nose piece which was obtained from T.P. Breen Ltd, car breakers in the early 1960s which presumably may have been fitted to the car as original equipment. See photos attached [1] [2] where the chassis and ratio 708 15/53 can be seen stamped on the top flange".

Summing up: After nearly seven decades of being known as a 'Special' with a somewhat indeterminate chassis number (102/50ML), VMF 944 has been sold as W.O.'s Chassis no. 708. What is the procedure for such re-christening, other than publishing these sacred numbers in the Car For Sale pages?

There is a need to dig for history relating to Chassis 708. Thanks to Michael (Clare) Hay we know it was invloved in an accident in 1930 but was last heard of as late as 1946. That's 22 years of being around. Also, whatever happened to Chassis 102 after it was delivered to the first owner, C.H. Deakin! There has to be some written word on these cars in the annals of Vintage Bentley history. It will take us a while yet to get to it — our floor-to-ceiling collection of literature, books and magazines with much Vintage Bentley between the pages could answer many questions. Ah, the bane of non-digitised information...

But there are so many stars among you. We invite our knowledgeable readers, experts and historians to help unravel this. What is the real involvement of Chassis no. 102 or Chassis 708 with this car? How much of the Syd Lawrence Special is a 'Vintage Bentley'? Or is it exactly what it says it is — a Special built by Syd Lawrence.
We look forward to hearing from you. E-mail us.
Posted here on Mar 9, 2016