Index
The Life and Times of Chassis 348
By Katy Parish
Published in New Zealand Rolls-Royce & Bentley Club, Newsletter Issue 15-4, 2015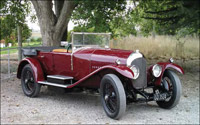 April 2015


1923 Bentley 3 litre Park Ward Tourer TT Replica, chassis 348, photographed in April 2015. (This was the first Bentley to come to New Zealand in October 1923)
When Tom asked me if I would write an article telling the story of our 3 litre Bentley, chassis 348, I answered "Ok, but once her 90th birthday present restoration is complete." That has given me a 2 year reprieve, but now the time has come to put pen to paper, or should I say finger to keyboard?

So, where to start? I have known the car since my father, Edgar Ridgen, called in to my boarding school in Timaru when first taking her home to Greendale, after purchasing her in 1976. But of course 348's story starts a bit earlier than that; shall we say October 1923, her delivery date. She was the first Bentley to come to New Zealand, as she came here new in 1923, but is now not the oldest New Zealand Bentley. Her first owner was Henry (Harry) Wardell of Wardell Bros & Co, Tea Merchants & Family Grocers. Harry was the youngest in the family of four sons and one daughter, who owned a grocery wholesale business with stores in Dunedin, Christchurch and Wellington. Harry took over the management of the 47-51 Willis St, Wellington store when his brother Tom moved to Australia, while brothers John and William ran the Dunedin and Christchurch stores respectively. They also owned a pig farm at Riccarton to provide bacon for their stores. 348's first New Zealand home was 4 Church St, Wellington, which now will take you to a parking building not very far from the Beehive.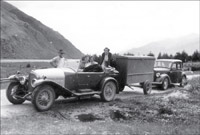 1952


Joe Studholme took this photograph of his father, brother, sister and mother with 348 at Kingston in 1952. Note the angle of the one-piece windscreen, and its shorter brackets, changed by Trevor Timms to a longer, and stronger type.
All the Wardell brothers had a passion for motor cars. They owned one of the first cars imported to NZ, a Star Stuart built in England and imported by PR Skeates in 1900. In 1922 the family imported not one, not two, but three brand new Lorraine-Dietrich cars after Harry's nephews were impressed with Lorraine-Dietrich ambulances during WW1. They had class. When Harry imported our Bentley at the end of 1923, it may have given him bragging rights over the southern members of the clan, after Bentley's 1924 Le Mans win, ahead of two Lorraine-Dietrichs in 2nd and 3rd places, but he would have had to eat humble pie for the next two years. Lorraine-Dietrichs ruled supreme, winning Le Mans in 1925, and holding the first 3 placings in 1926 before a 3 litre Bentley won again in 1927, to start Bentley's four year winning streak. I should add that no Lorraine-Dietrichs entered the race after 1926, but that somewhat lessens Bentley's achievement so do so only reluctantly. It is, however, pleasing to note that Harry's Bentley is still on the road today.
Harry sold 348 in August 1931, to Edward Robert Maunsell, and her new home was Ruru, Tinui on a Wairarapa sheep station. The homestead is now Tinui Station Country Estate, a Guest House, and, inspired by John Ferguson's article on "Emily," I think it will need visiting by 348 sometime in the near future. Edward was the custodian for the next 6 years. Her original ownership papers then show 9 short term owners from 1937 until 1950, including dealers, with no owner in possession for more than a couple of years. She worked her way from Wellington to Hastings, then Napier, before coming south to Christchurch. 348 was finally appreciated again when Derek Studholme, of Coldstream, Ashburton purchased her in June 1950. Joe Studholme remembers the car well from when his father owned her and, in a letter with the history as he remembers it, writes,
"Dear Katy,

I have enclosed some photos of your Bentley taken in the '50s (sixty years ago). The car was brought from Ransley Motors in Fitzgerald Avenue in 1949. It had belonged to one of the Richards family from Hororata. I think it was Hugh who was killed using explosives making the road into the Mt Olympus ski field. Apparently during his time the engine was rebored and valves ground by Julian Loughnan, his friend. Julian was an amateur, and fitted tractor valves, virtually wrecking the bores. My father owned a 1934 Singer sports 4-seater, and this was traded for the Bentley. His main car was a 1947 Rover 16 which he treasured. It was my first year at Christ's College, and I was taken to do this deal. It seemed wonderful at the time, but his trip back to Coldstream was terrible, as it blew up at Rakaia, and was towed home. Later it was taken to Percy Bull, who owned Fendalton Motors where the Supermarket is now, on the corner of Clyde Road. Percy repaired pre-war exotic cars. His description of the engine when pulled out was depressing. That is how Lucy Wills' spare engine was located and installed. My father wanted other things changed too. It was 1950, and the wool boom made sheep farmers affluent!

A higher geared back axle from English imported gears, a vacuum gauge from a Daimler bus was installed, and a multiple of toggle switches on a chrome plate virtually wrecked the original dashboard, with separate switches for each mag and petrol pump. A steam tap fitted under the dash, which when opened, increased the air into the carbs and leaned the mixture. It worked when touring but if you wanted power for overtaking it would spit at you unless you shut the air down! He fitted a Brooklands fish tail on the exhaust mounted horizontally, which was apparently then legal, to do away with a muffler. He was pulled up on the Kilmog hills by a cop who questioned this and my father agreed to fit a muffler, but at times, often going downhill there was a loud explosion which split the silencer right down the middle. We were once following an army personnel carrier near Burnham, with all the soldiers gazing out at the car. He was waiting to overtake. Suddenly there was an almighty explosion and the soldiers thought that a war had started!

I was allowed to use the car and learned to drive on it. The gears were quite a challenge, but once mastered never forgotten, and I've driven Tony Tripp's 4½ more recently with confidence. You must understand that these cars were in general use in the 1950s, not valuable collectors' cars as today. While our Bentley was 12 months in Percy Bull's garage waiting for parts, there was a very nice 4½ with Vanden Plas 4 seater body there also having the engine removed and a Ford V8 engine installed! This sounds terrible today but then it meant whether the car was useable or not. Another Speed Six Bentley had the engine replaced with a 6 cylinder Perkins diesel. My Father used it for fishing, camping, and to drive to Christchurch for the New Zealand Shipping Company board meetings. He bought a ram at the A & P show, and brought it back in a crate fitted in the back seat. He used it for camping in January, often to Peraki Bay, near Akaroa, and once to Te Anau and Manapouri where that photo was taken.

"Very unfortunately, the beautiful door handles were replaced by a subsequent owner with cheaper handles from an Austin. You can't see the proper handles very well in the photos, but they were slightly 'S' shaped like this (An illustration was included here), made of nickel or brass, your thumb fitted in the leading end and the bulge fitted in the palm of your hand; they were a real treasure to use, and they impressed everyone who used them. Auto Restorations said that they could be recast if you wanted; also the bonnet catches are additions. I think the originals were brass little finger nuts, not high but lower down. At that time it would cruise happily at 60 miles per hour and would go up to 75 if pushed. Without a fan, it used to boil on Arthur's Pass, and we had to wait a while for it to cool. But was very reliable, and gave the family great pleasure for many years. It was sad selling it to Mr Oddie, a Timaru chemist, for about £350. My father often got colds and pneumonia, and decided on a late 1930s Lagonda drophead saloon from England, but sadly this never happened.

I hope this is of interest to you. It is a great pleasure for me to know that it is in such good hands, and is really appreciated as we did.

With best wishes,
Joe Studholme"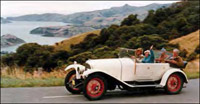 1986


348 and crew above Akaroa during the 1986 Pan Pacific Rally.
It was wonderful to get this information from Joe, and I was able to source original type door handles from the UK, which have met with his approval as he remembers them. These are now on the car. Also, bonnet latches are now of the original type. As the letter states a new engine, LT1590, was purchased from Lucy Wills (sister-in-law of Bill Hamilton), and fitted at this time. This was a spare engine which Bentley Drivers Club records state was never assigned to a car, and when talking with Joe he recalled it was still in its wooden crate. There is some question regarding the engine removed, as Trevor Timms, a subsequent owner, told me that it was a service replacement engine which was fitted early in the car's life. There is no record of this on the build sheet but engine S1973 was with the car from at least 1958, in their records, until Trevor sold it to Gavin Bain in the 1970s. Ron Hasell then purchased S1973 from Gavin. He took the later style sump off it for his car and then sold the engine back. This engine was the display engine Gavin had in Fazazz's showroom. The BDC have told me the "S" stamp is an identification for service replacement but they also said service replacement engines never numbered as high as 1973 so whose to know -- that is the number on the engine. The original engine for 348 was 353, and bits of this are in other cars within New Zealand. Ron Hasell told me the cam drive housing, stamped 353, and was in his old car, chassis 260, but the block in chassis 260 was engine 908.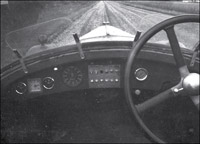 Joe Studholme's photograph of 348's instrument panel, with a long, and gravel
of course, road ahead.
Joe also mentions a higher geared back axle -- this may have just been a repair because the build sheet shows she had the higher ratio of 3.785:1 from new. As a late TT replica model, with a 1926 twin sloper, high compression engine, 348's specs are the same as the speed model which was introduced at chassis no. 356. She also has 4 wheel braking, which was introduced a month before her completion.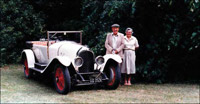 Edgar and Helen Ridgen with 348
As Joe states, his father bought the car from Hugh Richards, and the next owner was Don Oddie of Timaru. The 3 Litre was not quite up to Don's requirements, as his mechanic of the time, Colin Westoby, told me, and he had to have a bigger 4½ litre so he could beat Mike Haggitt and the likes in their 3 litres, so 348 was sold after only a year in Oddie's ownership to John Kennedy of Dunedin in 1958. Don bought 4½ litre ST3008 to replace her. John Kennedy was the VCC Dunedin Branch chairperson at the time. Photos from this time show that the spare wheel was removed from the driver's guard, and placed at the rear of the car, and the polished bonnet from the Studholme days was painted green. Trevor told me there were a lot of Bentleys around Dunedin at the time, and, like the rest, 348 was driven enthusiastically. After using the car for some time John decided that a restoration was required, and proceeded to strip the car down in his mother's garage. Unfortunately, as Trevor put it, "John found it prudent to remove himself from Dunedin," and he moved to Australia. 348 remained in pieces in his mother's garage. I understand that other Bentley owners borrowed bits at this time and this is when Joe's lovely door handles and the bonnet latches went missing (They could possibly still be waiting to be picked up from a nickel plater?). Trevor Timms made several unsuccessful attempts to purchase her, but persistence finally paid off, and he was eventually rewarded. He then went about reassembling her, tracking down all borrowed pieces, and returning them to the car (except obviously exterior door handles and bonnet latches), and giving her a fresh coat of paint. Trevor intended the colour to be an Alfa Romeo red but he was disappointed in the dirty brown/maroon colour it ended up. By the mid 1970s Trevor was married, with a growing family, and not too many spare readies, and so the Bentley had to go. This is when Father bought her, and her longest term of ownership began. As I recall, he paid $16,000 for her, which was 16 boxes of grass seed/clover mix that year. Father was her caretaker for just under 30 years, and Bruce McIlroy recalls Father telling him he had travelled over 100,000 miles in her. We know from checking warrant records that she travelled 48,132 miles between April 1995 and December 2005, indicating Father's total may have been considerably more than 100,000 miles. He took her anywhere and everywhere. Alan Wylie recalls her being lowered by ropes going into Carricktown off the Nevis Road and she did many, many Irishman Creek rallies through back-country fords and rough farm tracks. Father liked exploring, and knew most roads in the South Island, but he was patient and didn't drive her hard. She very seldom let him down, though once one back wheel went bounding into a paddock, causing some concern, and I understand took quite a bit of searching to retrieve it. Hubs and splines were rebuilt after this.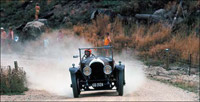 March 1975


John King's photograph of Trevor Timms and 348 at Invermay, March 1975
On another occasion the electric fuel pump that had been fitted failed, and Father got the Autovac plumbed back in on the roadside, and it got him home. She had one excursion to Australia in 1988 for the Australian Bi-Centennial Rally, and had an electric fan fitted after that. I learnt to drive her in my teens and recall in about 1980 taking her in a big parade in Darfield at snail's pace where she boiled, much to my embarrassment. She did not like the lack of ventilation, but there was no way out. Father understood, and said it wouldn't have hurt her, but I didn't like it all the same. He was driving a tractor in the parade, and I was very proud to be given responsibility for the 3 Litre. One of the early changes Father made was to the colour, and those of you who know the car in his Mercedes like colour scheme of ivory with bright red wheels may, or may not, appreciate my changing this - the rest of my family I don't think approve, and our daughter Emma, who one day may inherit it, may return it to her grandfather's choice. The original colour is not included on the build sheet but from observation of paint removed it was possibly a duck egg blue.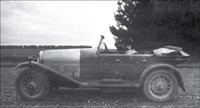 Joe Studholme's photograph of 348 about 25 years earlier, with the bent and rather insecure mindscreen brackets.
I inherited a third share in 348 after Father's death in December 2005. My brothers had been helped on to farms while my two sisters and I inherited 3 cars. Luckily for me, my sisters don't share our passion for old cars, and were happy to sell their shares to me, so I became the latest custodian of 348 in 2006. 348 had developed a knock in the engine during the later part of Father's time, and after I missed a gear down-change on a steep hill out of Dolamore Park, worsening this situation, it was decided an engine reconditioning was due. Father had had Auto Restorations recondition the engine in the late 1980s, and it was decided that another visit should be made, and maybe they could tidy the body a little, and give her a change of colour. 348 still sports her original Park Ward tourer body, and has an Auster screen for back seat passengers. The tidy-up of the body ended up as a full body-off restoration with the skin coming off, and now any damaged timbers have been repaired or replaced, and the original skin and guards have been repaired. For anyone interested, there are photos on the Chassis page. She is now back to her original form (as much as we know it) except for before mentioned spare wheel placement and strengthened windscreen brackets.

Auto Restorations initial mechanical report on the engine read:
"Hi Guys, We have now completely stripped the engine, there is a lot of wear on most working parts of the engine. Listed are the faults we found: Number 2 big end bearing had failed, there was excessive wear on main bearings,broken piston rings, worn piston ring grooves, broken valve guides,broken valve springs, worn inlet valves, worn cam followers, worn camshaft, all thrust bearings (vertical drive and crank) will be replaced, there is a minor crack in one of the camshaft caps we will weld up and remachine the cap. We will remetal the bigend and main bearings. There is some good news! There is no cracking evident in the crankshaft or conrods. The crankshaft has had a light grind to remove the damage from the run bigend bearing, oil pump ok."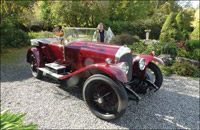 Katy Parish with 348
Not pretty reading, but it wasn't unexpected, and it could have been worse. All fixed now. I'm sure I have missed things out, got things wrong or just don't know some things, so if anyone can fill gaps or put me right, I would be very grateful to you.

So where to from here? Father was my age when he began exercising 348. I can only hope I have 30 years and over 100,000 miles of enjoyment ahead of me as he had. Here's to Katy Parish and 348, and their next 30 years together.
First published in New Zealand Rolls-Royce & Bentley Club, Newsletter Issue 15-4, 2015
Posted here on Oct 20, 2015