Index
Recommended Reading: Bentley, Fifty Years of the Marque
By Richard Lentinello - Hemmings Daily (July 8, 2014)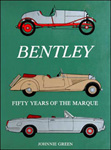 With its focus on one of the world's most prestigious automobile manufacturers, it's not surprising that this book about Bentley automobiles is now in its third edition. Enthusiasts the world over have always respected all that company founder W.O. Bentley had achieved, and long admired the cars that bore his name.

The most interesting aspect of author Johnnie Green's hardcover book is that it isn't just another historical review of an auto company's formation and about those individuals who managed it; rather, it's about the cars themselves, which is very refreshing as that's what we're all mainly interested in.

Among its 322 pages you will discover hundreds of photos of Bentley automobiles. Page after page of nothing but black-and-white photographs showcase nearly all the different models that Bentley produced, as well as all the special coachbuilt bodies that adorned Bentley chassis. Each photograph has its own caption that identifies the car and its coachbuilder, as well other pertinent details, which oftentimes includes the name of the car's first buyer and country that it was shipped to.

The nearly 600 photographs are arranged according to model, beginning with chapter one on the 3 Liter models, followed by the 6-1/2 Liter cars, then the 4-1/2 Liter models, Supercharged 4-1/2 Liter, etc. Other chapters are dedicated to "Vintage Bentley in Action," "Mark V and Corniche" and the "S" and "T" Series models.
For admirers not only of Bentley but of prewar cars in general, as well as big saloons and coachbuilt specials, this is one of those books that you really must have in your library. Because it's mainly all photos and captions, it's an easy read, which is welcoming for those occasions when you don't have a lot of time to read anything too in-depth.

First published in 1969, with subsequent reprints in 1973, 1974 and 1978, and with the Third Edition released in 2003, this is a product of England-based Dalton Watson Fine Books, which it most certainly is.

New copies of some of the earlier versions can still be found and bought for around $50 to $60, with used copies going for about $35. But whatever price you pay, trust me, you will greatly enjoy this book, and quickly find it to be one of the most important - and fascinating – books in your library.
Posted on July 9, 2014